The photo on the board in the alley between Main and Abram Streets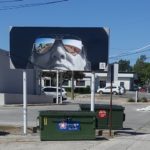 midway between West and Oak Streets is the 'man with no eyes'.
Morgan Woodward played the 'man with no eyes' in the movie Cool Hand Luke. He played the part of the walking boss Godfrey. His nickname came from his always wearing mirrored aviator sunglasses which obscured his eyes.
Sadly Mr. Woodward passed away Friday February 22, 2019. An article about this sign and Mr. Woodward appeared in the Downtown Arlington news-zine 2/25 – link. Mr. Woodward's obituary in the Ft. Worth Star-Telegram – link.
During his career he appeared in many TV shows and movies including:
The Life and Legend of Wyatt Earp
Have Gun – Will Travel
Rawhide
Star Trek
Dallas
The X-Files
Walking Tall: Final Chapter
Girls Just Want to Have Fun
Gunsmoke: To the Last Man
Mr. Woodward was born in Ft. Worth and grew up in Arlington, TX. He attended what became the University of Texas at Arlington before transferring to UT Austin.
The Arlington Historical Society has a collection of items donated by Mr. Woodward.
A few bits of trivia:
Mr. Woodward played Dr. Simon van Gelder, in Star Trek episode Dagger of the Mind 1966. In this episode Gelder is subjected to Mr. Spock's 'mind meld' which was used for the first time in this episode.
The pop phrase "what we have here is a failure to communicate" was first used in the movie Cool Hand Luke.
Mr Woodward graduated high school in 1944 from Arlington High.
This installation owes a nod to Diane Gatzke for her suggestion and for the design concept. Thank you!
Want to know more: